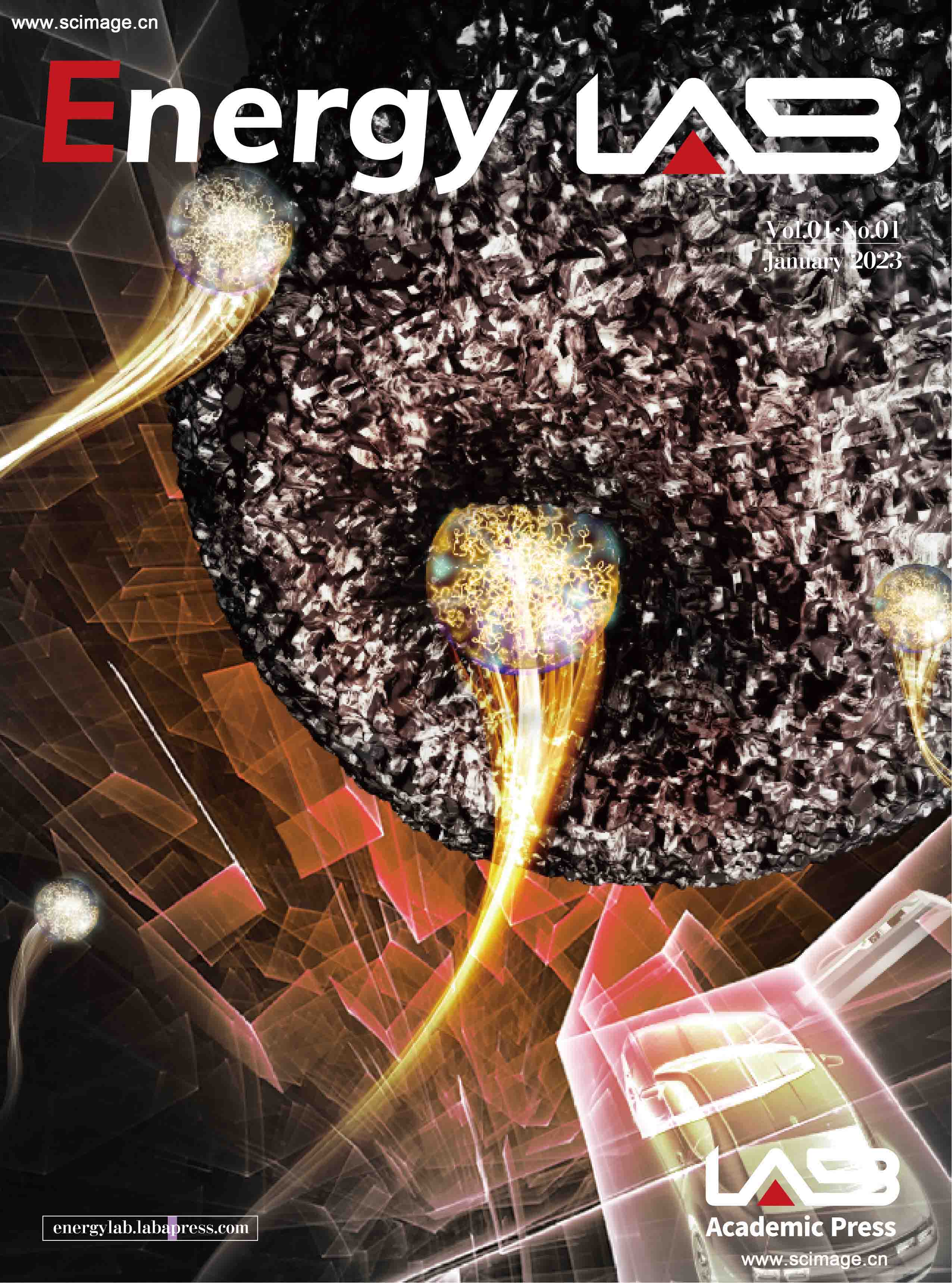 ▲ Vol 01 Issue 01 | January , 2023
Towards the intercalation and lithium plating mechanism for high safety and fast-charging lithium-ion batteries: a review
Yi Yang, Lei Xu, Chong Yan1, Jiaqi Huang, Qiang Zhang
The ever-increasing demand of portable electronics and electric vehicles has consistently promoted the development of lithium-ion batteries (LIBs) in the direction of higher energy density, higher safety, and faster charging. However, present high-energy LIBs are insufficient to sustain extra-fast power input without adverse consequences, which is mainly affected by the lithium (Li) plating on graphite electrode. The goal of this review is to enable graphite anode to support higher current and improve safety by ameliorating undesired Li plating from fundamentals and detections. Hence, the interaction, containing solid electrolyte interphase formation, Li+ intercalation/plating behavior, between graphite and Li+ be discussed in depth. Besides, the cognitive process of Li+ intercalation/plating kinetics as well as the inner mechanisms of Li plating especially in 3 extreme conditions (high state-of-charge, high charging-rate, and low temperature) are highly desirable to investigate Li plating comprehensively. Meanwhile, issues induced by Li plating, detection methods of Li deposition and knowledge gaps are identified for the follow-up research directions of Li plating in LIBs.
https://energylab.labapress.com/article/doi/10.54227/elab.20220011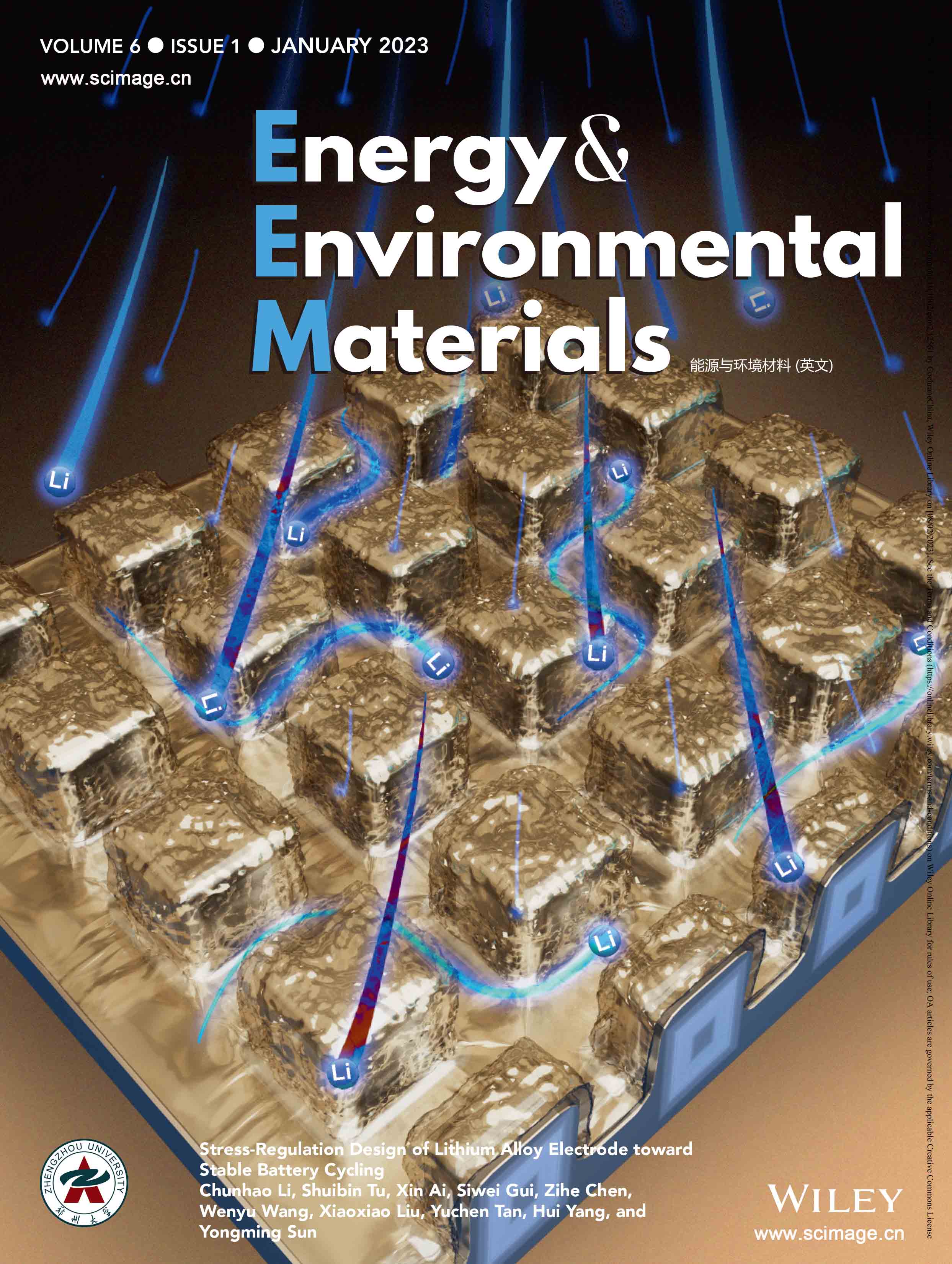 ▲ Vol 06 Issue 01 | January , 2023
Stress-Regulation Design of Lithium Alloy Electrode toward Stable Battery Cycling
Chunhao Li, Shuibin Tu, Xin Ai, Siwei Gui, Zihe Chen, Wenyu Wang, Xiaoxiao Liu, Yuchen Tan, Hui Yang, Yongming Sun
Metallic tin (Sn) foil is a promising candidate anode for lithium-ion batteries (LIBs) due to its metallurgical processability and high capacity. However, it suffers low initial Coulombic efficiency and inferior cycling stability due to its uneven alloying/dealloying reactions, large volume change and stress, and fast electrode structural degradation. Herein, we report an undulating LiSn electrode fabricated by a scalable two-step procedure involving mechanical lithography and chemical prelithiation of Sn foil. With the combination of experimental measurements and chemo-mechanical simulations, it was revealed the obtained undulating LiSn/Sn electrode could ensure better mechanical stability due to the pre-swelling state from Sn to LixSn and undulating structure of lithography in comparison with plane Sn, homogenize the electrochemical alloying/dealloying reactions due to the activated surface materials, and compensate Li loss during cycling due to the introduction of excess Li from LixSn, thus enabling enhanced electrochemical performance. Symmetric cells consisting of undulating LiSn/Sn electrode with an active thickness of ~5 um displayed stable cycling over 1000 h at 1 mA cm-2 and 1 mAh cm-2 with a low average overpotential of <15 mV. When paired with commercial LiNi0.6Co0.2Mn0.2O2 (NCM622) cathode with high mass loading of 15.8 mg cm-2, the full cell demonstrated a high capacity of 2.4 mAh cm-2 and outstanding cycling stability with 84.9% capacity retention at 0.5 C after 100 cycles. This work presents an advanced LiSn electrode with stress-regulation design toward high-performance LIBs, and sheds light on the rational electrode design and processing of other high-capacity lithium alloy anodes.
https://onlinelibrary.‍wiley‍.com/doi/10.1002/eem2.12267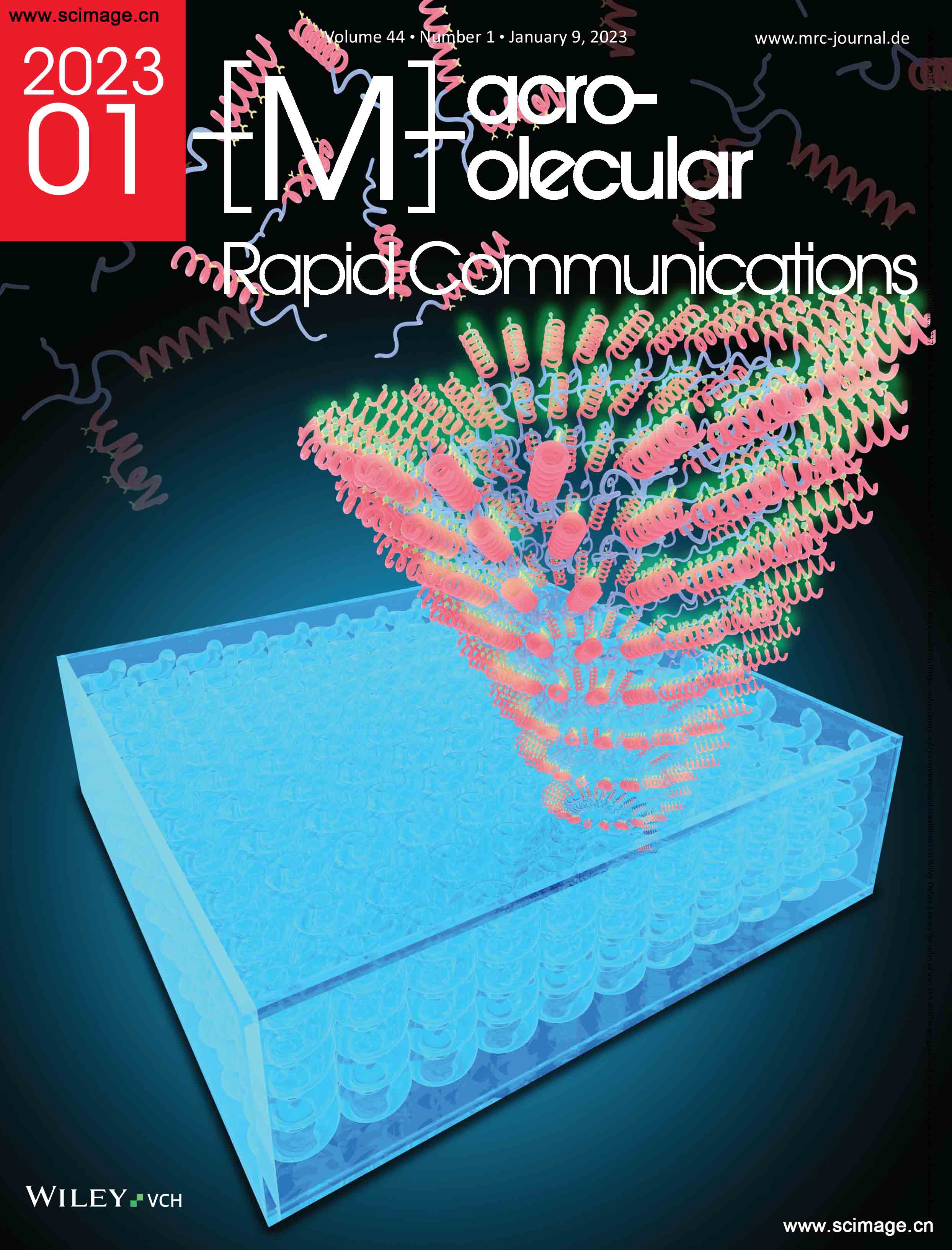 ▲ Vol 44 Issue 01 | January , 2023
Induced Circular Dichroism and Circularly Polarized Luminescence for Block Copolymers with Chiral Communications
Puhup Puneet, Sheng-Wei Shao, Rong-Ming Ho
Back Cover: In article 2200369, Rong-Ming Ho and co-workers demonstrate that the self-assembly of chiral block copolymers with induced circular dichroism (ICD) and induced circularly polarized luminescence (iCPL) creates the formation of illuminated thin films of well-ordered helix phase.
https://onlinelibrary.wiley.com/doi/10.1002/marc.202370003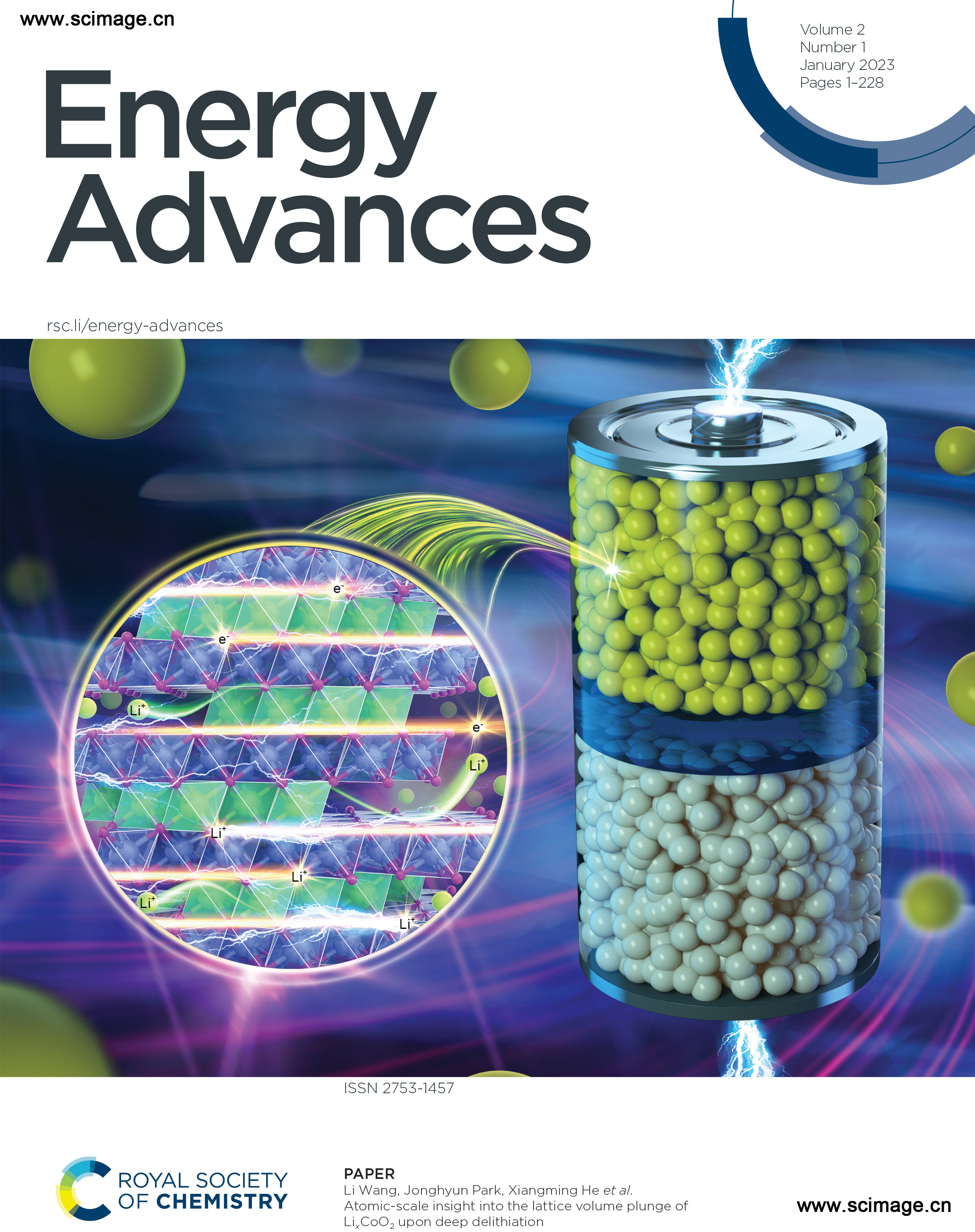 ▲ Vol 02 Issue 01 | 01 January , 2023
Atomic-scale insight into the lattice volume plunge of LixCoO2 upon deep delithiation
Yufang He, Li Wang, Bo Zhang, Hiep Pham, Hong Xu, Jonghyun Park and Xiangming He
The practical capacity utilization of LiCoO2 is limited to 50–70% due to the dramatic volume shrinkage induced cracks and subsequent interface parasitic reactions at high voltage. However, the fundamental understanding of the dramatic lattice volume shrinkage remains unclear. In this work, we discover that the delithiation paths have an impact on the lattice volume turning point of LixCoO2, where the corresponding capacity utilization can be as low as 62.5% or as high as 75% consequently. In addition, the O ↔ O interlayer distance across the Li layer (O(d3)) mainly contributes to the volume increase before 62.5–75% delithiation, and the O ↔ O interlayer distance across the Co layer (O(d2)) is the dominant factor for the dramatic volume decrease after the volume turning point. The electron localization function (ELF) around O keeps increasing during delithiation and it increases significantly after more than 62.5% delithiation, indicating that the lattice oxygen participates in charge compensation during the whole delithiation process and it becomes the main contributor to the charge compensation at a high delithiated state compared with Co. This work unravels the fundamental reason for the dramatic volume shrinkage of LixCoO2 at high voltage. It claims that the antisite defects (CoLi) of LiCoO2 should be designed carefully owing to the weaker Co–O bond strength and further oxygen release, which accelerate the degradation of LiCoO2, although it can increase the voltage of LiCoO2. More importantly, LiCoO2 material design with elemental doping, oxygen defects (VO), Li defects (VLi), and Co defects (VCo) will contribute to the capacity utilization of LiCoO2.
https://pubs.rsc.org/en/content/articlelanding/2023/ya/d2ya00278g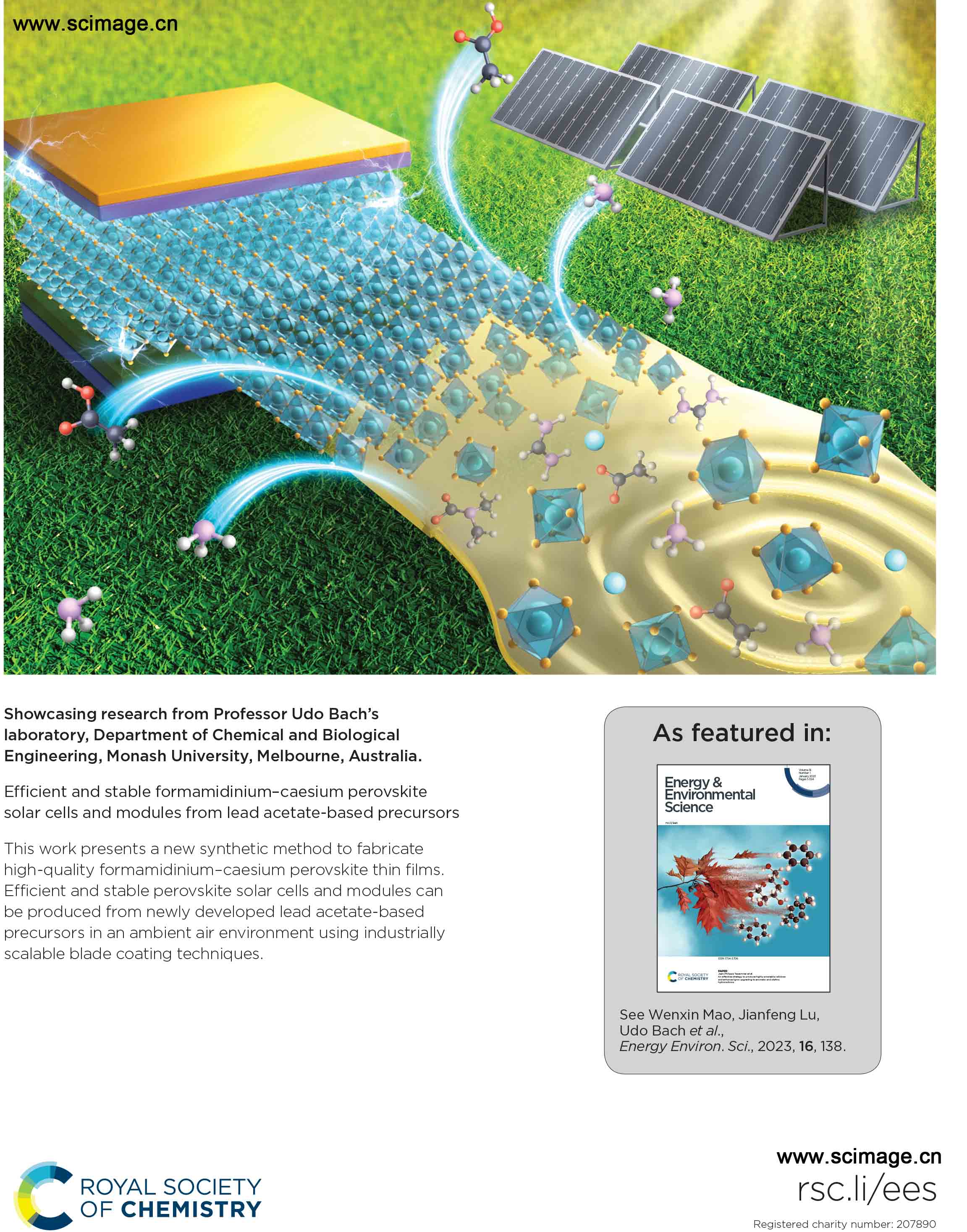 ▲ Vol 16 Issue 01 | 01 January , 2023
Efficient and stable formamidinium–caesium perovskite solar cells and modules from lead acetate-based precursors
Jie Zhao, Sebastian O. Fürer, David P. McMeekin, Qingdong Lin, Pin Lv, Jisheng Ma, Wen Liang Tan, Chao Wang, Boer Tan, Anthony S. R. Chesman, Huiyu Yin, Andrew D. Scully, Christopher R. McNeill, Wenxin Mao, Jianfeng Lu, Yi-Bing Cheng and Udo Bach
Controlling the crystallization process of perovskite thin films to obtain a high-quality material is one of the most challenging aspects for upscaling perovskite solar cell (PSC) technology. The use of non-halide lead sources, such as lead acetate, is a potential solution to this issue due to the fast perovskite crystallization process triggered by the facile removal of acetate during post-annealing. However, to date, lead acetate has been used exclusively as a precursor for the synthesis of methylammonium (MA) or caesium (Cs) based perovskites, which are unstable and less efficient. Here, we expand the lead acetate precursor route to form mixed A-cation perovskites, namely, formamidinium–caesium lead perovskite. High-quality large-area formamidinium–caesium mixed-cation perovskite films were produced by blade-coating a lead acetate-based precursor formulation in an ambient laboratory environment, with the use of NH4+ as a volatile cation to drive off acetate during annealing, leading to formation of PSCs with a power conversion efficiency (PCE) of up to 21.0%. Blade coated mini-modules with an aperture area of 10 cm2 displayed PCEs of up to 18.8%. The encapsulated PSCs showed excellent thermal stability, with no evidence of efficiency loss after 3300 hours at 65 °C.
https://pubs.rsc.org/en/content/articlelanding/2023/ee/d2ee01634f
<静远嘲风动漫传媒科技中心>设计制作
---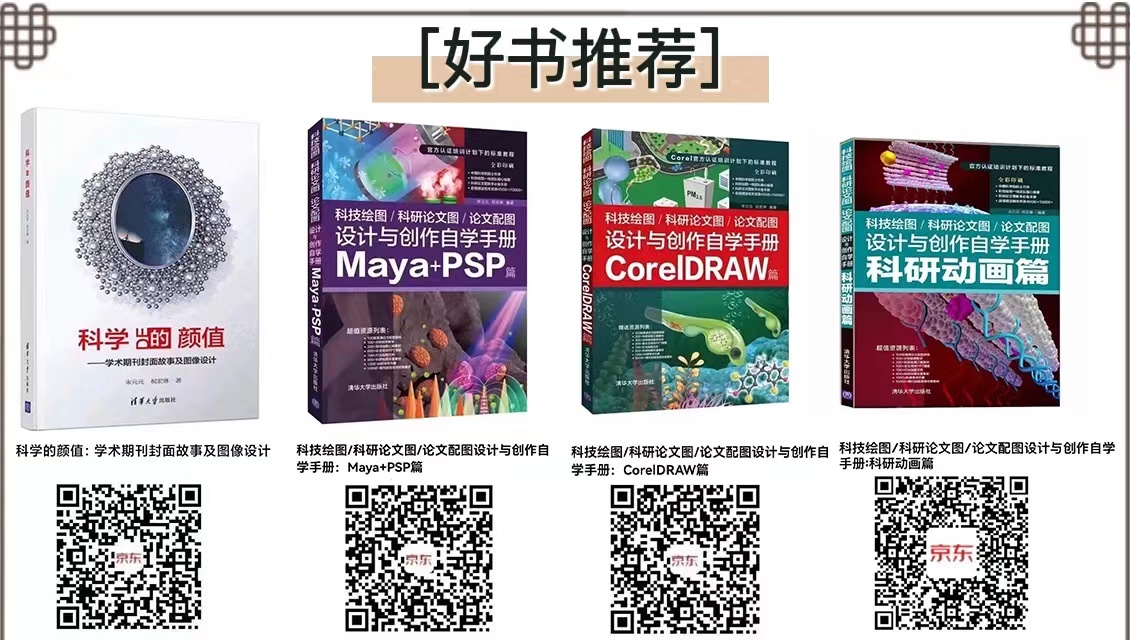 购书链接:
☆科学的颜值:学术期刊封面故事及图像设计
https://item.jd.com/12802188.html
☆科技绘图/科研论文图/论文配图设计与创作自学手册:CorelDRAW篇
https://item.jd.com/13504674.html
☆科技绘图/科研论文图/论文配图设计与创作自学手册:Maya+PSP篇
https://item.jd.com/13504686.html
☆科技绘图/科研论文图/论文配图设计与创作自学手册:科研动画篇
https://item.jd.com/13048467.html#crumb-wrap
---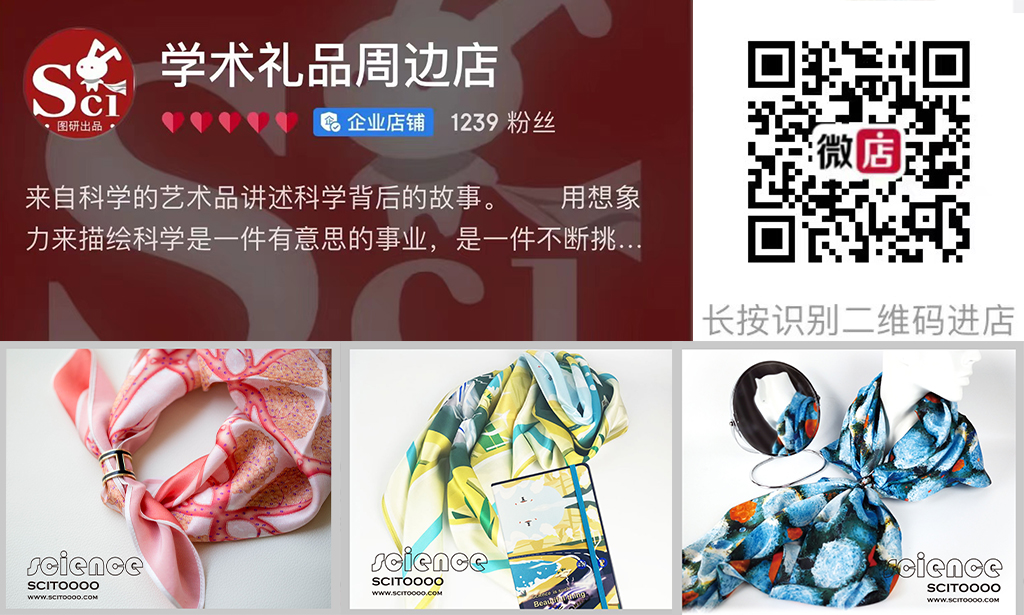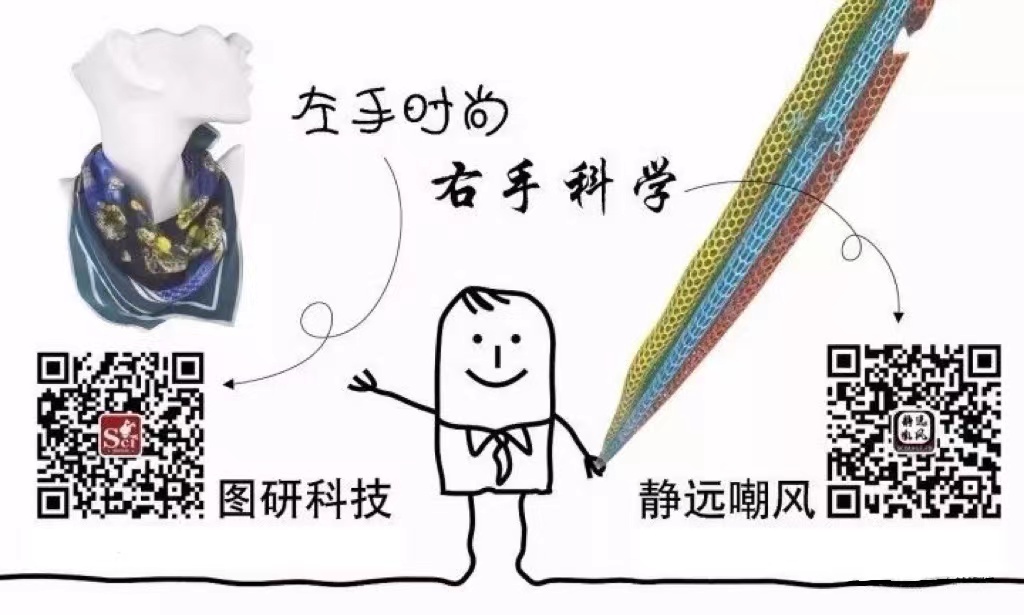 静远嘲风(MY Scimage) 成立于2007年,嘲风取自中国传统文化中龙生九子,子子不同的传说,嘲风为守护屋脊之瑞兽,喜登高望远;静远取自成语"宁静致远",登高莫忘初心,远观而不可务远。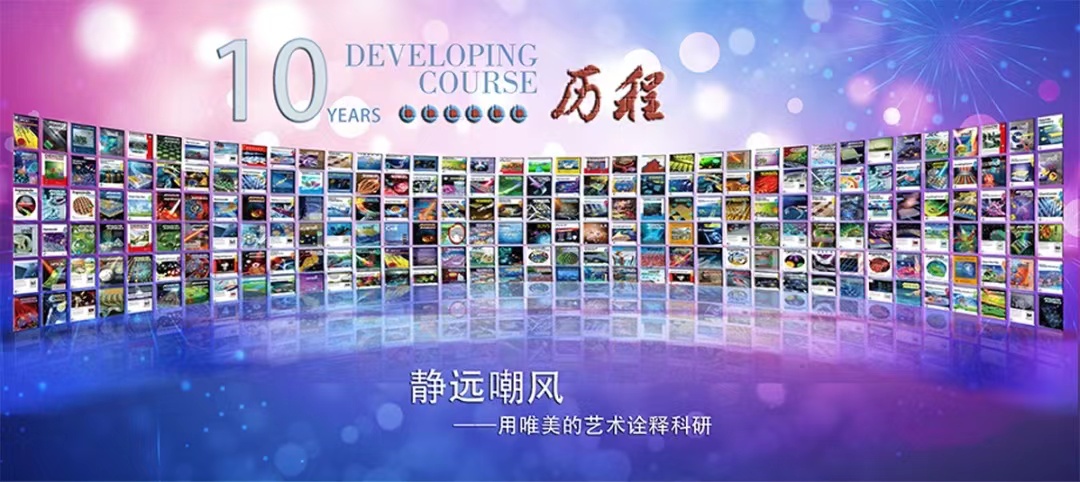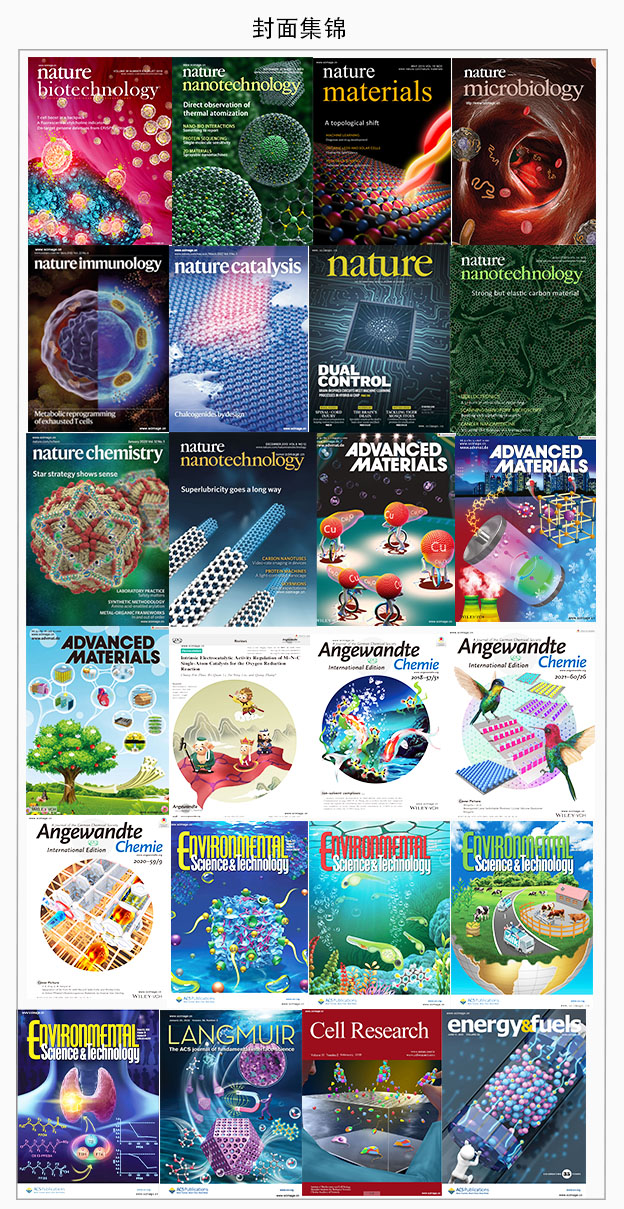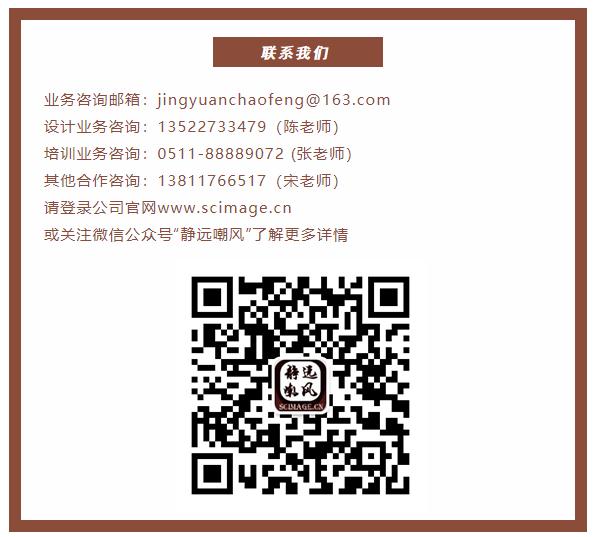 https://m.sciencenet.cn/blog-519111-1381429.html
上一篇:
我们科研图像画什么?
下一篇:
2023年1月嘲风作品集(二)