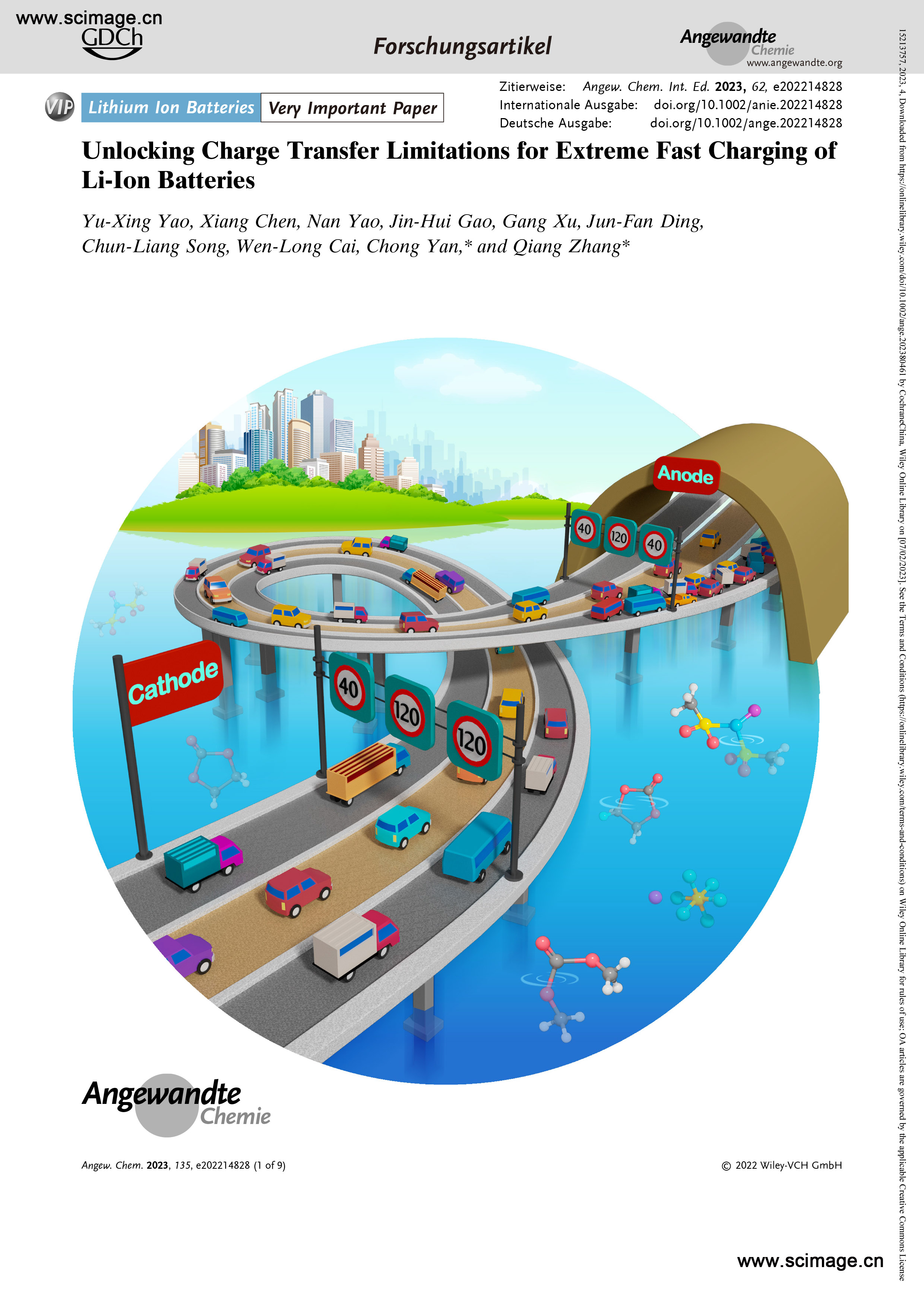 ▲ Vol 135 Issue 04 | 23 January , 2023
Frontispiz: Unlocking Charge Transfer Limitations for Extreme Fast Charging of Li-Ion Batteries
Yu-Xing Yao, Dr. Xiang Chen, Nan Yao, Jin-Hui Gao, Dr. Gang Xu, Jun-Fan Ding, Chun-Liang Song, Dr. Wen-Long Cai, Prof. Chong Yan, Prof. Qiang Zhang
Lithium Ion Batteries. Fast charging of high-energy Li-ion batteries is achieved by simultaneously reducing the anode and cathode charge transfer energy barriers through electrolyte engineering, as reported by Chong Yan, Qiang Zhang et al. in their Research Article (e202214828).
https://onlinelibrary.wiley.com/doi/10.1002/ange.202380461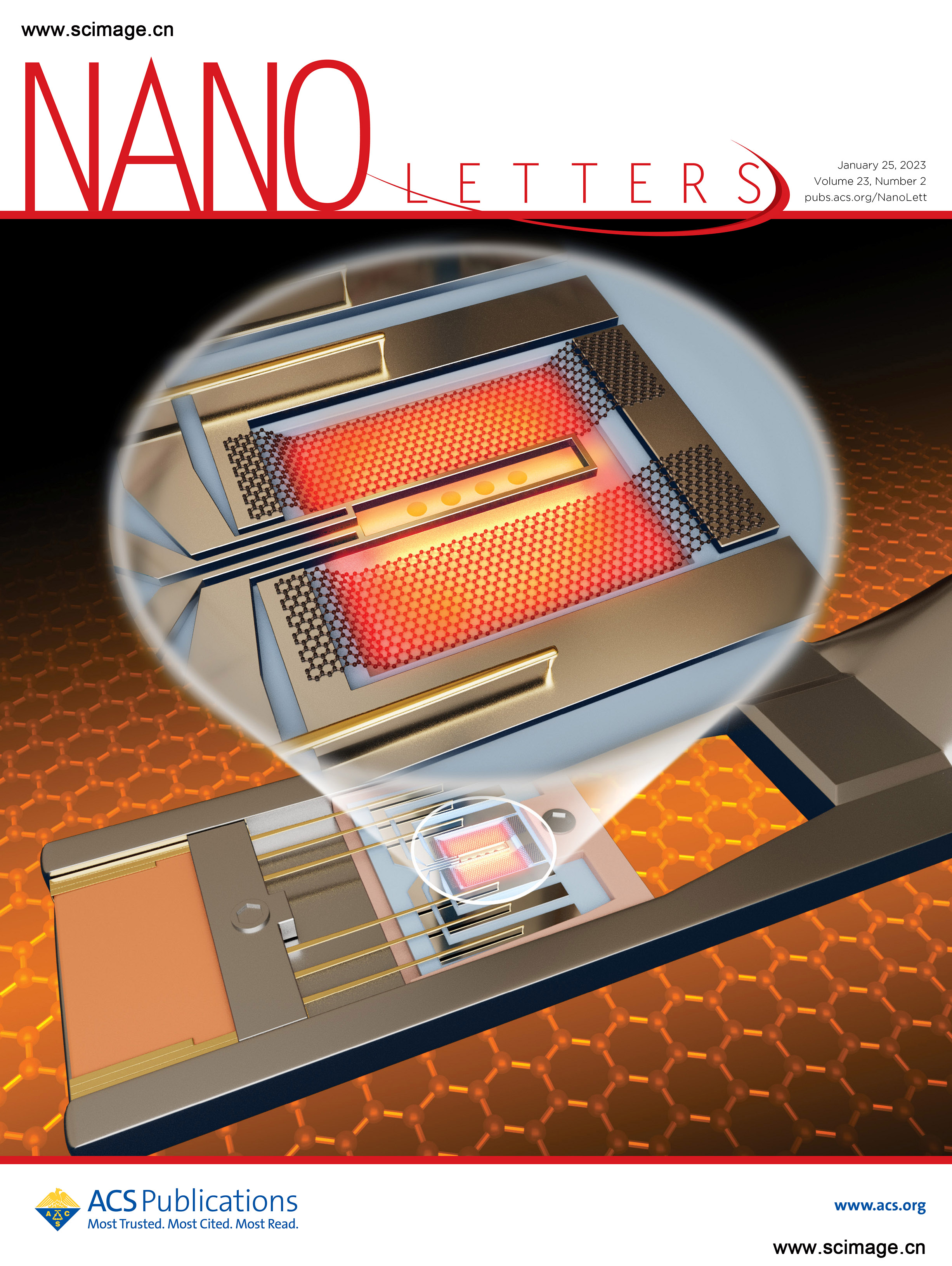 ▲ Vol 23 Issue 02 | 25 January , 2023
Graphene Microheater Chips for In Situ TEM
Jie Zhao, Liang Liang, Shiyi Tang, Guangqi Zhang, Yi Su, Yuxin Zhao, Mengjuan Li, Lina Zhang, Shoushan Fan, Qunqing Li, and Yang Wei
Low-dimensional materials are bringing significant innovations to in situ TEM characterization. Here a new graphene microheater chip for TEM was developed by stacking graphene on a suspended SiNx membrane as the Joule heating element. It could be heated up to 800 °C within 26.31 ms with a low power consumption of 0.025 mW/1000 μm2. The bulging was only ~50 nm at 650 °C, which is 2 orders of magnitude smaller than those of conventional MEMS heaters at similar temperatures. The performances benefit from the employment of graphene, since its monolayer structure greatly reduces the heat capacity, and the vdW contact significantly reduces the interfacial interaction. The TEM observation on the Sn melting process verifies its great potential in resolving thermodynamic processes. Moreover, more multifunctional in situ chips could be developed by integrating other stimuli to such chips. This work opens a new frontier for both graphene and in situ characterization techniques.
https://pubs.acs.org/doi/10.1021/acs.nanolett.2c03510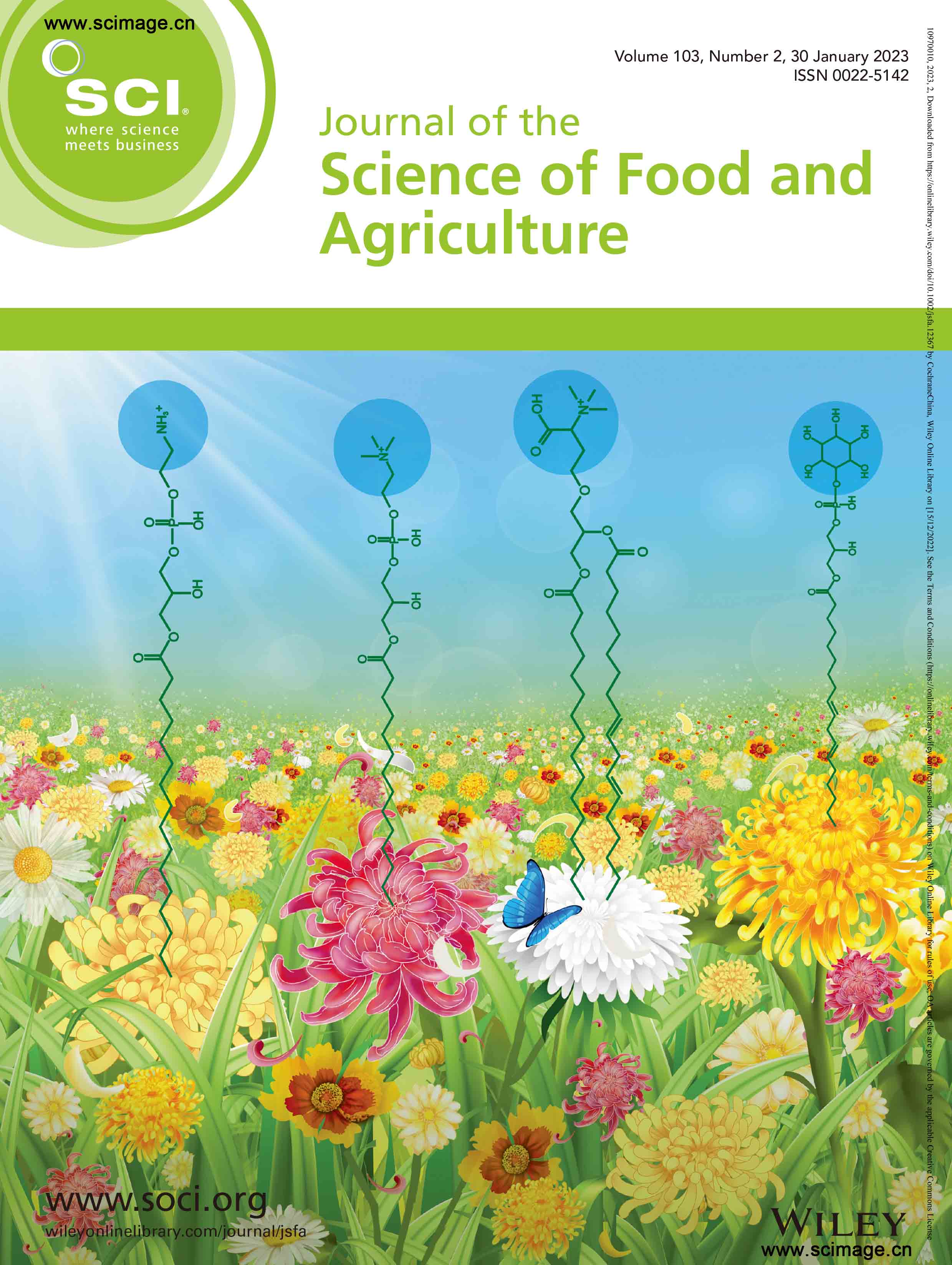 ▲ Vol 23 Issue 02 | 30 January , 2023
Discrimination of chrysanthemum varieties using lipidomics based on UHPLC–HR-AM/MS/MS
Li Zhou, Yue Ma, Jiaxu Yao, Minghao Zhang, Haiyan Fu, Jian Yang, Jikai Liu, Minjie Zhao, Eric Marchioni
BACKGROUND
Chrysanthemum is one of the most important and popular ornamentals over the world. Chrysanthemum drink is a type of traditional healthy drink like Chinese tea. Owing to the differences in the chemical compositions, different chrysanthemum varieties have different medicinal effects on human health. Thus, the identification of different chrysanthemum varieties is very important and necessary. This study aims to distinguish seven chrysanthemum varieties that are widely used in China. First, total lipids were obtained from chrysanthemums. After that, lipid profiles were characterized using ultra-high-performance liquid chromatography hyphenated with a Q Exactive™ high resolution–accurate-mass mass spectrometer.
RESULTS
A total of 163 lipid molecular species from 17 types of lipid classes in seven varieties of chrysanthemums were determined. Principal component analysis indicated that three lipid molecules, lysophosphatidylethanolamine(18:2) (LPE(18:2)), LPE(16:0), and phosphatidic acid(18:2/18:3) (variable importance in projection >3, P < 0.001), can be used as potential biomarkers to distinguish seven chrysanthemum varieties. Hierarchical cluster analysis showed that the lipid molecular profiles of 'Gongju' were most similar to 'Jinzijianju', followed by 'Huaibaiju', 'Boju', 'Hangbaiju', 'Chuju', and 'Fubaiju'.
CONCLUSION
This comprehensive analysis provided a new method to identify chrysanthemum varieties through the perspective of lipidomics combined with chemometrics. © 2022 Society of Chemical Industry.
https://onlinelibrary.wiley.com/doi/10.1002/jsfa.12195
▲ Vol 68 Issue 02 | 30 January , 2023
Charge instability of topological Fermi arcs in chiral crystal CoSi
Zhicheng Rao, Quanxin Hu, Shangjie Tian, Qing Qu, Congrun Chen, Shunye Gao, Zhenyu Yuan, Cenyao Tang, Wenhui Fan, Jierui Huang, Yaobo Huang, Li Wang, Lu Zhang, Fangsen Li, Kedong Wang, Huaixin Yang, Hongming Weng, Tian Qian, Jinpeng Xu, Kun Jiang, Hechang Lei, Yu-Jie Sun, Hong Ding
Topological boundary states emerged at the spatial boundary between topological non-trivial and trivial phases, are usually gapless, or commonly referred as metallic states. For example, the surface state of a topological insulator is a gapless Dirac state. These metallic topological boundary states are typically well described by non-interacting fermions. However, the behavior of topological boundary states with significant electron–electron interactions, which could turn the gapless boundary states into gapped ordered states, e.g., density wave states or superconducting states, is of great interest theoretically, but is still lacking evidence experimentally. Here, we report the observation of incommensurable charge density wave (CDW) formed on the topological boundary states driven by the electron–electron interactions on the (0 0 1) surface of CoSi. The wavevector of CDW varies as the temperature changes, which coincides with the evolution of topological surface Fermi arcs with temperature. The orientation of the CDW phase is determined by the chirality of the Fermi arcs, which indicates a direct association between CDW and Fermi arcs. Our finding will stimulate the search of more interactions-driven ordered states, such as superconductivity and magnetism, on the boundaries of topological materials.
https://www.sciencedirect.com/science/article/pii/S2095927323000063
<静远嘲风动漫传媒科技中心>设计制作
---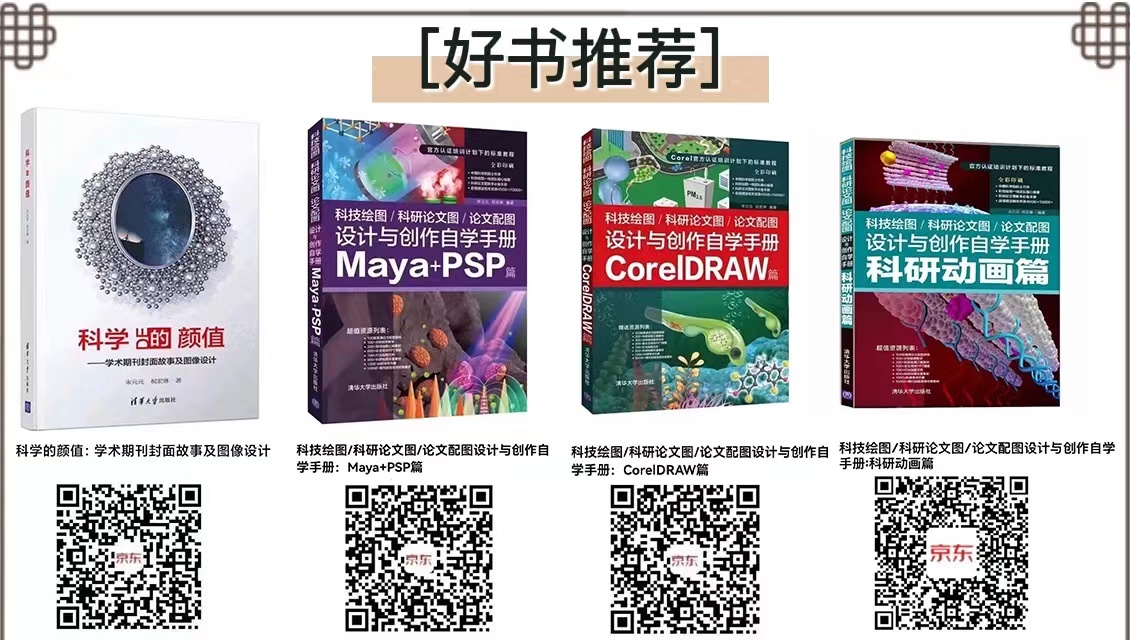 购书链接:
☆科学的颜值:学术期刊封面故事及图像设计
https://item.jd.com/12802188.html
☆科技绘图/科研论文图/论文配图设计与创作自学手册:CorelDRAW篇
https://item.jd.com/13504674.html
☆科技绘图/科研论文图/论文配图设计与创作自学手册:Maya+PSP篇
https://item.jd.com/13504686.html
☆科技绘图/科研论文图/论文配图设计与创作自学手册:科研动画篇
https://item.jd.com/13048467.html#crumb-wrap
---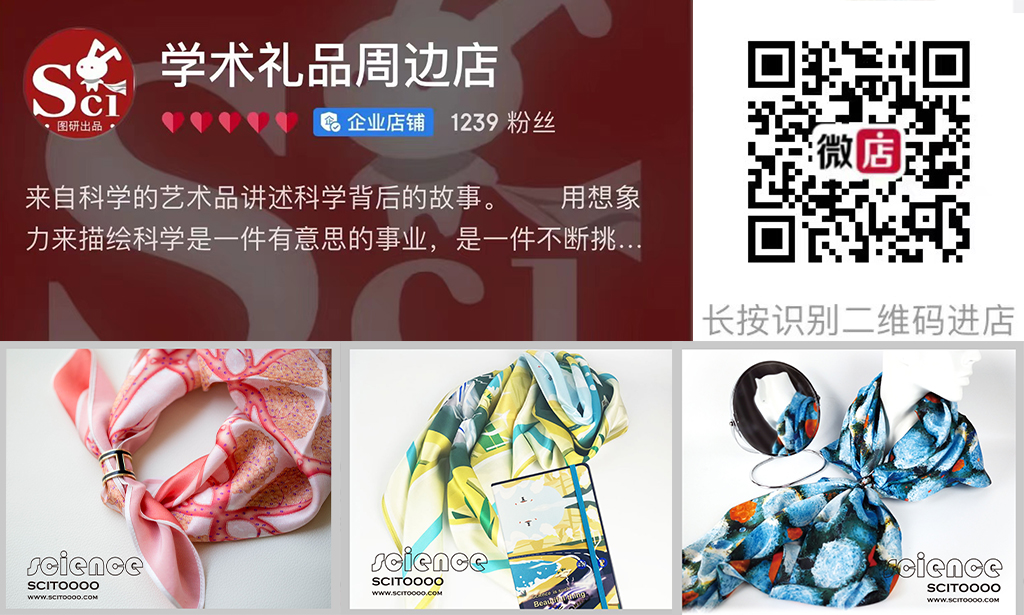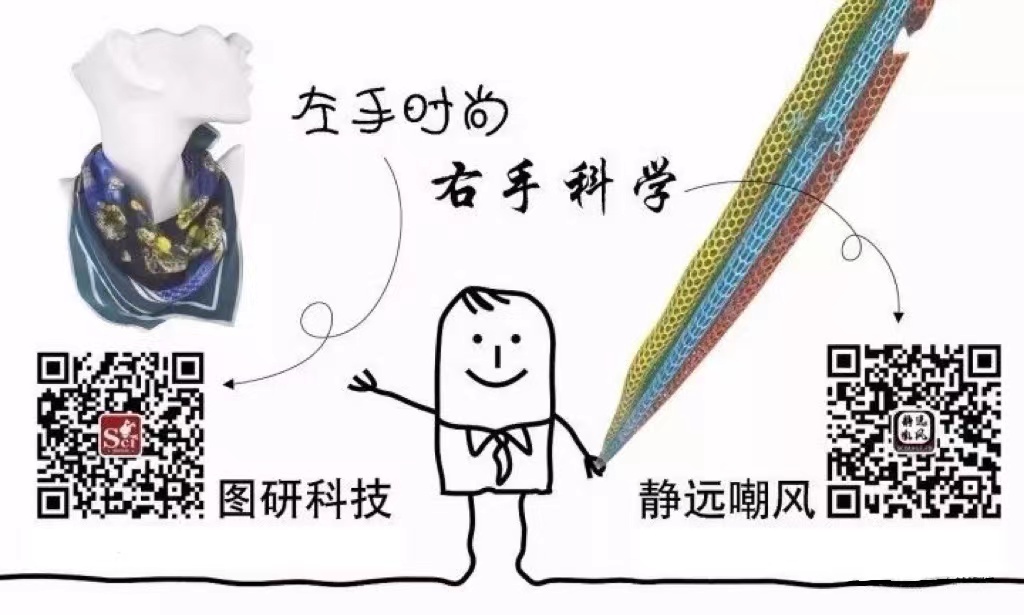 静远嘲风(MY Scimage) 成立于2007年,嘲风取自中国传统文化中龙生九子,子子不同的传说,嘲风为守护屋脊之瑞兽,喜登高望远;静远取自成语"宁静致远",登高莫忘初心,远观而不可务远。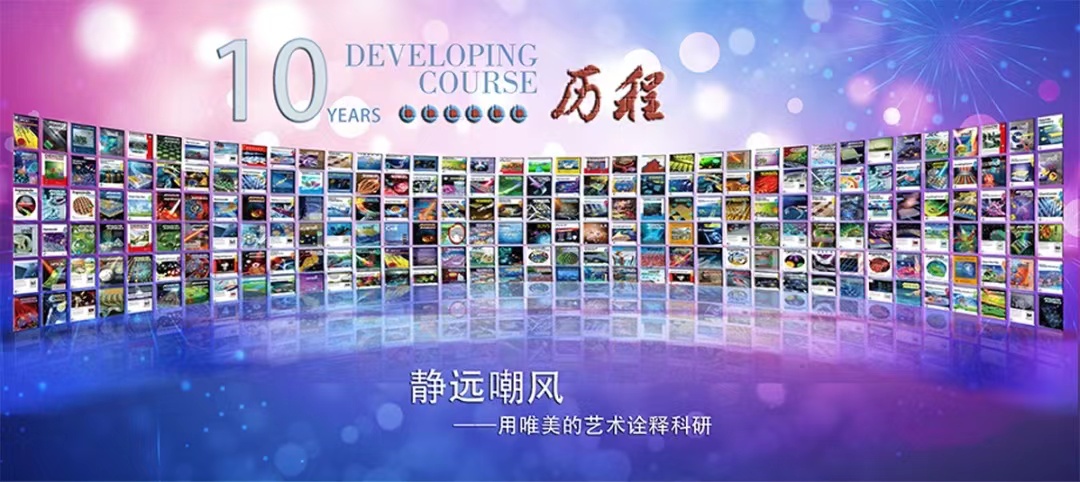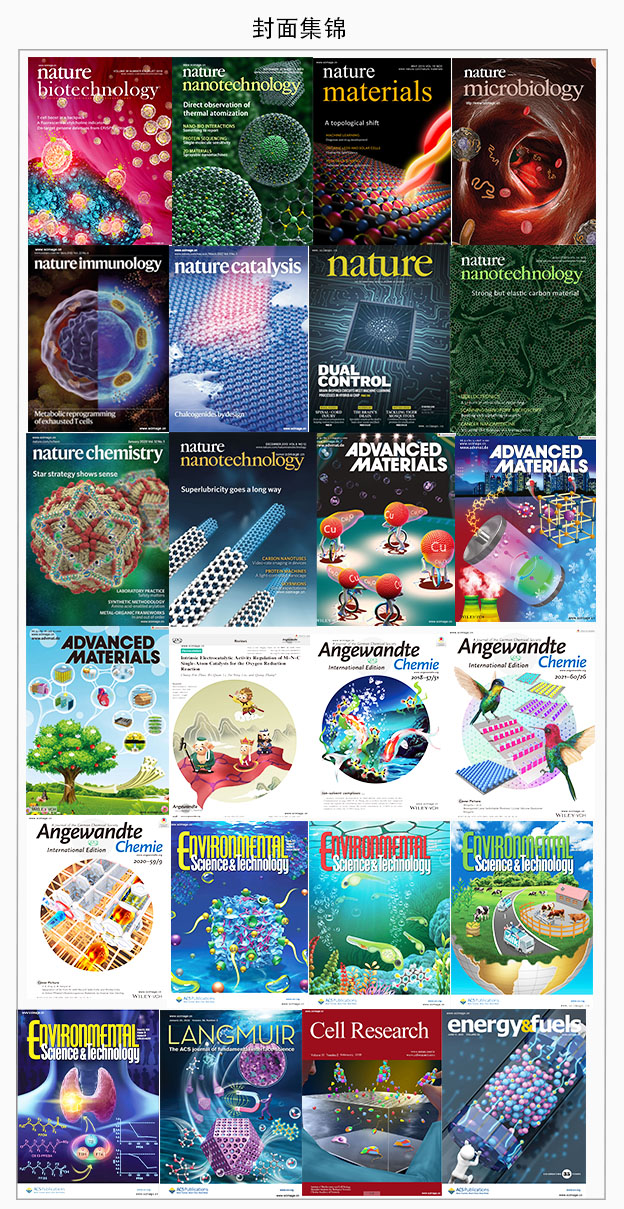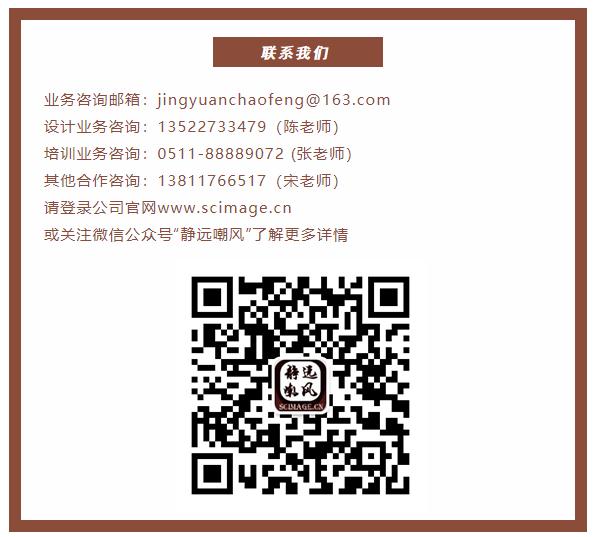 https://m.sciencenet.cn/blog-519111-1381431.html
上一篇:
2023年1月嘲风作品集(二)
下一篇:
AI都来画图了,你还在纠结用不用图吗?